So my summer started out with my obsession with Ancestry.com and Pinterest. When I had the sudden realization I was spending a lot of time in the virtual world and should be more focused on the real world.
So while bumming around on Pinterest I saw this great tutorial on using a laser printer to transfer images on to wood blocks. I even posted about it
here
.
Katie over at Matsutake did a great job with the tutorial, so I went online and bought some wooden rectangles to print on.
I wanted to get rid of my paper job pocket chart. I had been buying these pocket accents. From Carson Dellroas Company for $7.00. My plan was to keep the pocket piece and just try to buy the card insert...ha ha, not going to happen because they don't make them separately.
So not wanting to be wasteful and buy way more than I need, I thought about trying to make something I could use year after year and while the one time cost would be higher it would pay for itself in the long run.
So I followed the tutorial at Matsutake, and came out with mixed results I read all the comment below the post and tried again.
My family members laughed at me. My Father told me I was putting way to much work into it, I said wait till you see how they turn out. He's an engineer and doesn't understand that simply attaching a label to a piece of wood will last about 4.2 seconds in an elementary classroom.
The second attempt also mixed results (see picture).
I think the problem is you MUST have an Epson printer, which use straight pigment vs. HP's water based inks. So I searched for an Epson printer not at school, at home, at parent's home, at parent work...no where is there an Epson printer. So back to the drawing board I went.
I had my 3x2 rectangles. So I thought of caving to my Father's idea about printing on labels and putting the labels on the wood. Come to find out, they don't make 3x2 labels!
Then while trying to solve that speed bump, I thought about business cards. We had a winner. I went to Staples to buy-said business cards- only to find the smallest packs were a 100 cards at $32.00- NO!
So while standing in the label aisle sorting threw my options I came across a new product by Avery.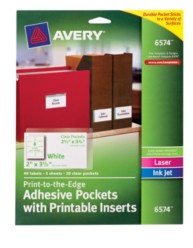 Avery Adhesive Pockets with print inserts 2x3 (and 1/2...close enough)!! Which may actually work out better because I can change the card if need be instead of having to remove a label or print a new wood block. These are self adhesive and seem to be holding on okay. If they give me a hard time I'll use some more E600 to attach them!
( The cards are backwards because I had originally printed them for my transfer method, so these will get reprinted)
I stuck the vinyl pockets to the wood. Glued a round magnet to the back of the wood and printed out the jobs on the cards.
I plan to use them with empty plastic picture magnets that the student will decorate with their pictures and names and we will use them for a done/undone job chart. I think it will create more accountability. We don't start school for another few days so once I have it up and arranged in my classroom I'll make a new post!