1. A blogger who is a "New Kid on the Blog"
(Let's say someone who has blogged 2 months or less and has less than 200 followers

2. Post a blogger in your same grade level

3. Post a blogger in a different grade level

4. It's all about the button. Find a cute blog button and post it.
1.) A new kid on the blog....shameless self plug. While not new to blogging, I am new to teacher blogging....
2.) In my grade level~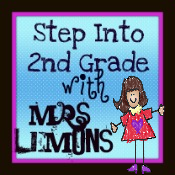 4.)

That was easy and fun! I'm also so exciting because I have a follower! Just one but I'm sure more to come yippeee! Can't wait till I can get back into my building and start posting all the great things that are saved up on my school computer!