Another link party.... I'm just partying it up over here at the Triebel Telegraph.... actually I'm hoping for more followers. I'm networking here people!
So normally for a linky party I spend all this time thinking about what I'm going to write but when I read this prompt, I didn't even have to think. I just knew. Like a good melon.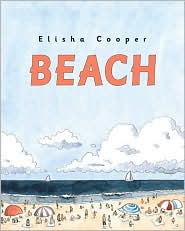 The book: Beach
Author: Elisha Cooper (I'll save you the trouble and tell you that this is a male author)
Medium: Watercolor and pencil
Before I tell you about the book, I'll tell you I read this every June to my class. They look at the pictures and inevitably one of the students will say "Miss Triebel that looks just like our local beach" and I agree with them. So this year I happen to Google Elisha Cooper and start to read up on his work. I see he went to Yale. My town is close to Yale.
I see on the book flap that he lives in Chicago now and then pay dirt... on his website it says he went to Lake Michigan to research this book AND he went back to his childhood beach in Connecticut to do more research. I wrote him an email (in June) to ask if his beach was indeed our beach, but haven't heard back from him :( but in my gut I know it's the same beach. I've lived here my whole life I know this is my beach....
This is one of my favorite pictures, it's actually 2 pages... looks like nautical wall paper!
The whole book is illustrated in model form, where the people have no "faces" they look like those wooden art models, its about a typical day at the beach the people that come, what they do, the gulls eating food, the lifeguard swinging there whistle. It is Americana. It is summer time. It is one of my favorite parts of teaching :)
And my favorite line from the book sums up summer, and I think summer for most teachers.
"As the sun sets, and the clouds change color, the beach empties. A last jump in the water, another last jump. Then up the sand and over the dunes with a stop at the outdoor shower. Sand is everywhere- between toes and in bathing suits and inside ears. Inside, too, is the motion of the waves, the knowledge of a day well spent, a day to remember when is the beach is far away."
Be sure to head over to Clutter Free Classroom to check out this Linky Party and the whole weeks worth of Linky Parties they have going on there...for the party animal in us all!
http://clutterfreeclassroom.blogspot.com/