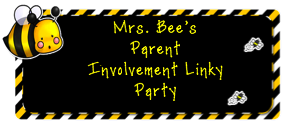 Who knew?? My post coincidentally also fits a Linky Party! Yippee.. Head on over to Mrs. Bee's website to check out
Mrs. Bee's buzzing website
!
I'm racking my brain here to keep my classroom fresh and motivated. I'm always looking for a new idea. I love this over at
Clutter Free Classroom.
It seems like it's a great management board, easy to use and up keep and not a lot of things to buy and maintain.
I think that's the true theme in my room, less waste--- paper wise, money wise, time wise.
That being said I'm all about the classroom incentives. Starting after Christmas I use a class bank system, where children bank money towards a store at the end of the year. I love doing this but, it's not practical to start that the first week of school. Also this management board is easy enough I can run both at the same time in theory.
In the past I've used tickets. Everyday a child goes without a strike they get a ticket, we put it in a fish bowl and I draw out 3 different names to choose a prize from the prize bag a.k.a the Oriental Trading junk box.
Call me crazy, but aside from giving the kids....what we all know to be junk... I'm not thrilled of giving them god knows what made in China made with who knows what kind of paint. I never used to think of these things but my teaching neighbor (and good buddy Michele) is someone who thinks of all these things and since my Mom had cancer, I have to say it certainly makes me think twice about things.
So I'm formulating a plan. To start off the year I am going to make my own management board like the one at Clutter Free Classroom, use the clothespin idea (because I have about 10,000 clothespins sitting in a ziplock bag in my room) but there are those kids who always go above and beyond. There are those kids that have a good rebound after a speed bump, and generally in those cases I like to send home a quick note or more often I send a quick email to the student's parents to tell them the great news.
**SIDE NOTE- The first two weeks of school, I contact every parent with positive news about their child. I try to get as many by phone, but many I catch up with on email. I think it creates positive conditioning that way our first true interaction isn't about something their child has done wrong or it's not "Ohhh no Miss Triebel is calling home!"**
However, I'm realizing I can circumnavigate some of this with these nifty inventions. Somewhere on Pinterest (can't find it now, of course!) there was post about using strips of paper and tape to create a paper bracelet as a reminder to bring in books, homework whatever it might be.
I love the idea, but come on teachers let's be realistic...
Paper...........taped on to a wrist or backpack, in bus line at 3:30 on a rainy day.... I see paper pulp laying on the front sidewalk after little Johnny has gotten on his bus. So I start thinking high tech.... concerts, clubs, Ty-Vek bracelets!
Then, those handy people over at Really Good Teacher Stuff...boy talk about networking, talk about canvasing. I get at least one catalog at home, when I swung by school last week there were 4 in my mailbox and I get a biweekly email from them... I get the picture folks! But while lying by the pool I saw these handy bracelets and that's when my other LIGHTBULB!!! went off (I love Steve Carrell in Despicable Me!).
But at $6.99 for 90 strips, each one costs a measley 7 cents a bracelet. But if you hand out one a day you'll be out 1/2 way through the year...that's no good. Nothing like building the kids up into something and then ditching it.
So 7 cents are our splurge because in theory you'd be buying at least 3 boxes. So let's call it $21.00 and 270 strips.
Now for our steal... again I revert to my friend Google- "Event bracelets"
So I'll skip to the good part, each box of bracelets contains.... 500 bracelets. This could be a two year adventure. I could even use them as reminder bands AND incentive bands because with 500 there is little chance I'll run out... (500/180 is 2.7 bracelets a day) so maybe I could run out we'll have to see how this plays out.... any ways on to the money.
We have some options here... Low ball-
In 6 different colors (neons) and 6 different non-neon colors, there are plenty of options. The cost $16.00 a box. If you can get your whole building in on it, if you order more than 20 boxes the price drops to $14.00 a box. The cost per bracelet are you ready to be SHOCKED??? Is 3 cents a bracelet! 3 cents! What teacher can't afford 3 cents for classroom incentives?
High ball option:
Maybe you think solid colors are boring. They have some great patterns too. Waves (I'm not going lie I'm drawn to theses bad boys at 16.50 a box (still 3 cents a bracelet).
They also have tie dye, smiley faces, rings, lightening bolts, American flags, ducks, fish, geckos, tiger stripes, stars, checks, stripes, camo, pawprints, footballs and penguins. All ranging from $16.50 to $18.00 (still 3 cents each).
They also have a "variety pack" of colors. You could color code your bracelets. Purple for a job well done, red for reminders??? The Variety pack in regular is slightly more expensive at $26.50 a box, but still 5 cents a band.
So I hoping it's clear in everyone's mind that this is a real steal. Even if you figure in .99 for a sharpie to write your message. Also I'm speculating here, but I bet stickers would adhere pretty well to these.
And while my second graders are little old for this... some of K-1 friends might find these useful the first weeks of school....